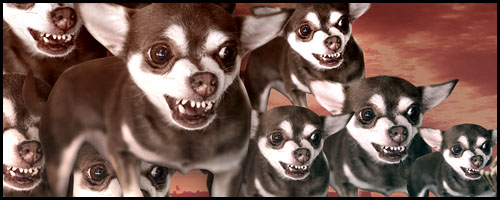 NEWS ALERT!
ROVING CHIHUAHUA GANGS TERRORIZE LONDON
Following the recent expansion of thirteen new Taco Bell restaurants all around London, gangs of feral, roving chihuahuas have appeared all over the city, attracted by the increase in taco density. These chihuahuas have been terrorizing the muggle and magical world alike--attacking pedestrians, chasing after little children, loitering in no-loitering zones, and peeing freely on any vertical structures they come across.
Officials advise caution when dealing with this canine menace to society. The following chihuahuas are considered yappy, extremely annoying, and most probably dangerous.
WANTED
HOW IT WORKS
Reply to this thread requesting a mission! I will assign you a task to complete around the board, using the chihuahuas as your instruments of destruction. These missions will be given in private and may take a couple days to deliver. Each mission will be slightly different, and they will be completed in order.



Mission 1:

There Will Be Blood



Mission 2:

For Whom the Bell Tolls



Mission 3:

No Country for Old Dogs

---
REWARDS
You will receive Cesar Millan rollerblading with a pack of attack chihuahuas as your reward. This reward will upgrade to higher levels as you complete all three missions.
Cesar Millan, Level 1
Cesar Millan, Level 2
Cesar Millan, Level 3
Spoiler:
reward codes
show
#DogsOfWar