Alexis Scarlett Silkfire
---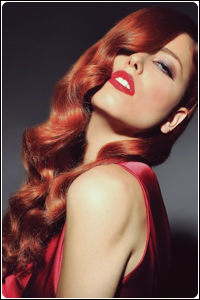 Alexis nibbled lightly on her full lips as her sparkling green eyes watched the arrow spin through the numbers on the lift, and she absently stroked the crimson waves of silk that framed her face. The lead auror had practically begged her to join to help whip all the other aurors into shape, and today was her first day, so she had dressed to impress-- in a sleek pencil skirt with a slit up the back, hot red pumps, and a blouse buttoned down just enough to tease a tiny bit of her ample cleavage.
She felt a little nervous about her first day, but she took a deep breath and reminded herself how much she had accomplished. Saving Harry Potter's life during the Battle of Hogwarts, tracking out tons of Death Eaters as a vigilante assassin in the Second War, and on and on. Those aurors
needed her
.
Finally the lift coasted to a stop. The double doors opened with a celebratory ding to announce her presence. Her lips curved to a sphinxish smile, and she stepped off the lift and immediately ran into someone.
"Oops." Alexis laughed softly, a sound like tinkling bells, and smoothed back her fiery curls. "Excuse me."
---
(¯`·._.·Do you dare touch the fire inside?·._.·´¯)
Lily grinned as she submitted her post. Surely, a male character would see how hot her character was and join the thread! :3